4 April 2023 – SAVANT, the unique geo-spatial analytics product launched in October 2019 by Earth-i and Marex, covers global smelting activity for both Copper and Nickel.
– Inactive global copper smelters back above 10% –
– Sharp slowdown in N and S America copper smelting –
– China copper smelting remains above 50 –
– Third of China NPI smelters inactive at end of month –
– Only Indonesia NPI registers above two-year average of 50 –
March 2023 Copper observations include:
The Global Dispersion Index fell back to 46.8 from the 49.5 registered in February. This was despite a very strong start to the month, which saw the regional dispersion index in China peak at 59.5 on 2 March, only to fall back to 50.2, as a growing number of smelters were inactive by the end of the month. This includes Jiayi's 100kt/a Top Eastern and Western Mining Company's similarly sized Qinghai plant. March was an underwhelming performance in a country that accounts for over 40% of SAVANT copper smelting coverage; it also belies the 11% increase in imports of copper concentrates year-on-year to 4.6 million tonnes in January and February and a period of mild weather that buoyed construction activity downstream. With the second quarter expected to be a particularly busy period for maintenance in China, we expect the region's Inactive Capacity Index to rise strongly from the 2.6% in March.
In South America, the regional index was weighed down by patchy operational performances at ENAMI's 80kt/a Hernan Videla Lira and Codelco's 200kt/a Salvador smelter, although it was partially boosted by the resumption of activity at Codelco's 450kt/a Chuquicamata smelter from the middle of the month after lengthy maintenance. Similarly, in North America, intermittent activity signals from the 320kt/a Garfield smelter – the possibility of which had been well flagged by owners Rio Tinto in their Q1 production report – together with periods of reduced capacity at both Sudbury smelters and at Grupo Mexico's 300kt/a La Caridad facility saw the continent's average Inactive Capacity Index rise by over 20 points to 45%.
Global Dispersion Index fell to 46.8 in March from 49.5 in February, the steepest month-on-month decline in 10 months
After a strong February in China, which saw country-level smelter production record its highest daily average on record, activity fell, with the region's Dispersion Index recording a decline of 2.4 points to 50.2
The regional Dispersion Indices in North and South America fell sharply to averages of 31.5 and 44.6, respectively, pulling down the Global ex-China Dispersion Index to 44.6
Global Inactive Capacity rose to 10.6%, the first reading in double figures this year
Sign-up here for a trial of the SAVANT service or read the Nasdaq report card on Savant here: MGST Report Card.
March 2023 Nickel observations include:
The Global Dispersion Index also fell back to 46.8 in March from 49.1 in February, as demand weakness weighed on output. This was the case in the Chinese NPI sector where, at the end of the month, 10 out of the country's 31 operating plants were observed as inactive. Interestingly, Jiangsu Delong's plant, at 100kt/a second only to Shandong Xinhai's 190kt/a facility, saw a period of inactivity at the end of the month for the first time in nearly a year.
While activity in the rest of the world continues to languish below the two-year average of 50 – with the notable exception of NPI in Indonesia – there are some signs of improvement in Europe. Although the European regional Dispersion index only rose by 3.4 points to a modest average of 26.9 for the month, at the beginning of April Euronickel Industries' 20kt/a Kavadarci ferronickel smelter registered its first signs of activity this year.
Global Dispersion Index fell back to 46.8 in March from 49.1 in February, the 4th consecutive monthly fall
The China NPI Dispersion Index fell back again to 45.4 in March from 51.7 and is now 10 points lower than a year ago
With the fall in the China NPI index, NPI in Indonesia is now the only regional index above the two-year average of 50
Sign-up here for a trial of the SAVANT service or read the Nasdaq report card on Savant here: MGST Report Card.
Dr Guy Wolf, Marex Global Head of Analytics, commented: "China's GDP target of only 5% following the Two Sessions meeting has weighed on smelting activity, which is perhaps surprising as we enter the seasonally strong period for the economy. With a heavy maintenance schedule coming up and improving sentiment from China's construction sector feeding through the economy more broadly, this sets up for potential tightness in copper units in coming months." 
N. & S. America Activity Dispersion Index (combined, 14 day moving average), October 2022 – Present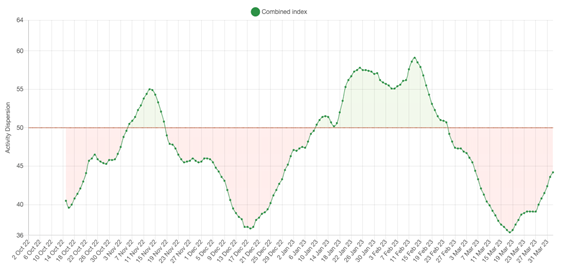 China NPI Activity Dispersion Index, January 2023 – Present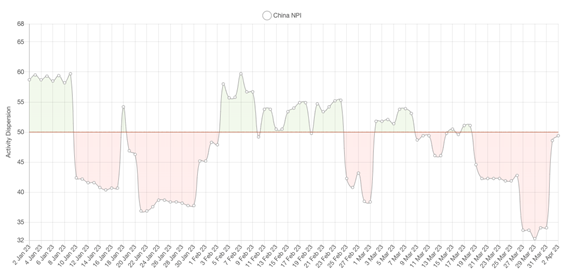 The Smelter Production series is a set of indices derived from capacity-weighted activity levels observed at smelter sites and collated to country and regional levels. Readings are displayed on a kilotonnes of production basis for the monthly, quarterly and annual periods.
The Activity Dispersion Index is a measure of capacity-weighted activity levels observed at smelter sites where a reading of 50 indicates that current activity levels are at average levels. Readings above or below 50 indicate greater or lesser activity levels than average, respectively. The above chart displays these readings as a weekly rolling average.
The Inactive Capacity Index is derived from binary observations of a smelter's operational status as being either active or inactive. The capacity weighted global and regional indices show the percentage of smelter capacity that is inactive, with readings displayed in the chart below as a weekly rolling average. A reading of zero would indicate 100% smelting capacity.
The SAVANT platform monitors up to 90% of the smelting capacity for copper and nickel round the globe. Using daily updated sources, including extensive use of geospatial data collected from satellites, the index reports on the activities at the world's smelting plants offering subscribers unprecedented levels of coverage, accuracy and reliability. This dataset allows users to make better informed and more timely trading decisions.
Sign-up here for a trial of the SAVANT service or read the Nasdaq report card on Savant here: MGST Report Card.
About Earth-i
Earth-i is a geospatial intelligence company using machine learning, artificial intelligence and Earth Observation data to provide unique and relevant insights, derived from diverse geospatial data, that deliver clear decision advantage for businesses, governments and other organisations.
Earth-i provides advanced analytics using automated interpretation of a range of geospatial Earth Observation data sources including colour imagery, colour video, infra-red and radar from a range of sources including satellite, drone, aerial and ground-based sensors. This data is fused with additional data sources to extract factual understanding and generate predictive insights across a range of markets such as commodities, supply chain, agriculture, infrastructure and defence.
For more information visit:
Website: www.earthi.space
Twitter: @Earthi_
LinkedIn: Earth-i
About Marex
Marex is a diversified global financial services platform, providing essential liquidity, market access and infrastructure services to clients in the energy, commodities and financial markets.
The Group provides comprehensive breadth and depth of coverage across five core services: Market Making, Execution and Clearing, Hedging and Investment Solutions, Price Discovery and Data & Advisory. It has a leading franchise in many major metals, energy and agricultural products, executing around 38 million trades and clearing over 193 million contracts in 2021. The Group provides access to the world's major commodity markets, covering a broad range of clients that include some of the largest commodity producers, consumers and traders, banks, hedge funds and asset managers.
Marex was established in 2005 but through its subsidiaries can trace its roots in the commodity markets back almost 100 years. Headquartered in London with 22 offices worldwide, the Group has over 1,300 employees across Europe, Asia and America.
For more information visit www.marex.com