3 August 2023 – SAVANT, the unique geo-spatial analytics product launched in October 2019 by Earth-i and Marex, covers global smelting activity for both Copper and Nickel.
– Global Copper smelting sees a small increase despite China's decline –
– China's Copper smelting drop led by East and South Central –
– Global Nickel smelting falls in July, again led by China –
– Europe/ Africa Nickel smelting continues to increase –
July 2023 Copper observations include:
The Global Dispersion Index rose to 46.8 in July from 45.9 in June, despite experiencing the largest fall in activity in China in 18 months. The weakness here was driven by subdued activity in the East and South Central regions – which together account for over two-thirds of SAVANT monitored capacity – and where the combined Dispersion Index fell to 43.9 from 61 in June. However, by the end of the month, the only smelter of this cohort to be seen inactive was Daye's 300kt/a plant in Hubei province.  It should also be noted that with the addition of the new Yantai Guoxing facility, SAVANT monitoring within the country has now increased to 37 primary smelting sites.
The increase in activity towards the end of the month is consistent with market dynamics and higher fees (TCRCs) paid to custom smelters (i.e. standalone plants receiving their feed from miners) to process copper concentrates. There is also the possibility that owners are looking to maximise production in expectation of government stimulus measures and a boost in third-quarter orders. Additionally, with LME Week earlier than usual this year, they may also be looking to raise output now to then be able to reduce activity in September, giving the appearance of a loose market in the lead-up to negotiations in London. For these reasons, the Dispersion Index for custom smelters globally rose by 5.5 points to 50.9, while that for captive smelters fell by 4.5 points to 41.9, as operators of integrated mine and processing facilities reduce activity in line with lower workforce availability during the northern hemisphere summer.
At the site level, notable operations to watch are Aurubis' 300kt/a Pirdop smelter in Bulgaria, which is due to start maintenance this month, while KCM's Nchanga smelter was also scheduled for a shutdown to upgrade infrastructure, although this work may already have started to coincide with July's shutdown due to a molten metal leak.
Global Dispersion Index rose to 46.8 in July from 45.9 in June
This was despite smelting activity in China falling by 10.9 points to 44.8, the largest fall since the imposition of strict lockdowns in cities in China in the first quarter of 2022
Apart from Asia & Oceania, all other regions outside China recorded increasing levels of activity
Activity at Captive and Custom smelters diverged, with the Dispersion Index for the former falling by 4.5 points month-on-month to 41.9, while that for the latter rose 5.5 points to 50.9
Sign-up here for a trial of the SAVANT service or read the Nasdaq report card on Savant here: MGST Report Card.
July 2023 Nickel observations include:
The Global Dispersion Index continued to fall in line with seasonal demand patterns, from 40.4 in June to 40.0 in July. That the China NPI Dispersion Index declined to its lowest level since the COVID-19 induced lockdown of early 2022 is consistent with a market suffering from an oversupply of low-grade nickel, due to the ramp-up of capacity in Indonesia, where total nickel production is expected to reach more than 1.8Mt in 2023.
Of the regional indices, Europe & Africa is notable for its rise of over 10 points in the last two months to 44.2, propelled by the restart of NewCo Ferronikeli's 12kt/a plant in Kosovo after a 2-year hiatus that ended in the last week of June. Elsewhere, the Americas remains the strongest of the regions at 45.9 following the ramp-up after second-quarter maintenance of Vale's 66kt/a Sudbury Copper Cliff smelter, as well as evidence from SAVANT of a strong recent performance from the company's 27kt/a Onca Puma ferronickel smelter in Brazil ahead of a furnace rebuild in H2.
Global Dispersion Index fell to 40.0 in July from 40.4 in June, the 8th consecutive monthly fall and its lowest level in a year
All of the regional dispersion indices are now below the 2-year average of 50, with the strongest being The Americas at 45.9 and the weakest NPI in China at 39.9
The China NPI Dispersion Index fell below 40.0 for the first time since the first quarter lockdowns of 2022
Global Inactive Capacity rose to 20.9%, the highest reading in a year
Sign-up here for a trial of the SAVANT service or read the Nasdaq report card on Savant here: MGST Report Card.
Copper: Custom and Captive Activity Dispersion Indices (7 day moving average), Jul 2021 – Present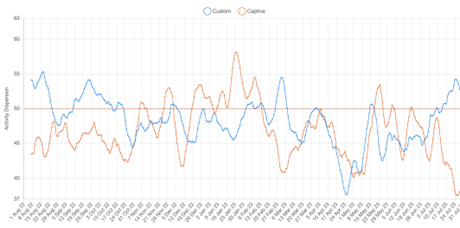 Nickel: Onca Puma Raw Index Score and operating status (yellow = active), April 2023 – Present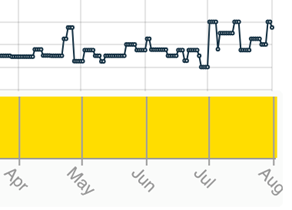 Source: SAVANT by Earth-i
The Activity Dispersion Index is a measure of capacity-weighted activity levels observed at smelter sites where a reading of 50 indicates that current activity levels are at average levels. Readings above or below 50 indicate greater or lesser activity levels than average, respectively. The above chart displays these readings as a weekly rolling average.
The Inactive Capacity Index is derived from binary observations of a smelter's operational status as being either active or inactive. The capacity weighted global and regional indices show the percentage of smelter capacity that is inactive, with readings displayed in the chart below as a weekly rolling average. A reading of zero would indicate 100% smelting capacity.
The SAVANT platform monitors up to 90% of the smelting capacity for copper and nickel round the globe. Using daily updated sources, including extensive use of geospatial data collected from satellites, the index reports on the activities at the world's smelting plants offering subscribers unprecedented levels of coverage, accuracy and reliability. This dataset allows users to make better informed and more timely trading decisions.
Sign-up here for a trial of the SAVANT service or read the Nasdaq report card on Savant here: MGST Report Card.
About Earth-i
Earth-i is a geospatial intelligence company using machine learning, artificial intelligence and Earth Observation data to provide unique and relevant insights, derived from diverse geospatial data, that deliver clear decision advantage for businesses, governments and other organisations.
Earth-i provides advanced analytics using automated interpretation of a range of geospatial Earth Observation data sources including colour imagery, colour video, infra-red and radar from a range of sources including satellite, drone, aerial and ground-based sensors. This data is fused with additional data sources to extract factual understanding and generate predictive insights across a range of markets such as commodities, supply chain, agriculture, infrastructure and defence.
For more information visit:
Website: www.earthi.space
Twitter: @Earthi_
LinkedIn: Earth-i
About Marex
Marex is a diversified global financial services platform, providing essential liquidity, market access and infrastructure services to clients in the energy, commodities and financial markets.
The Group provides comprehensive breadth and depth of coverage across five core services: Market Making, Execution and Clearing, Hedging and Investment Solutions, Price Discovery and Data & Advisory. It has a leading franchise in many major metals, energy and agricultural products, executing around 38 million trades and clearing over 193 million contracts in 2021. The Group provides access to the world's major commodity markets, covering a broad range of clients that include some of the largest commodity producers, consumers and traders, banks, hedge funds and asset managers.
Marex was established in 2005 but through its subsidiaries can trace its roots in the commodity markets back almost 100 years. Headquartered in London with 22 offices worldwide, the Group has over 1,300 employees across Europe, Asia and America.
For more information visit www.marex.com